This spring was a tricky one.  Unseasonably warm weather felt like a huge relief from the crazy cold this winter, the down side being it made our asparagus bolt far too soon, which meant they were instantly far too tall and woody. Then the warm sun and wild rains rotted too many of the strawberries for my liking.  I was lucky enough to pick just enough of those sweet, perfumy little berries to make a whack of strawberry rhubarb compote as well as some Canada Day Cheesecake. I'll need to be even more ruthless next year to get as many as I can when the weather is dry…lesson learned.
Here is a link to a Strawberry Rhubarb Bread Pudding recipe I am excited to try.  If you do try it post a comment.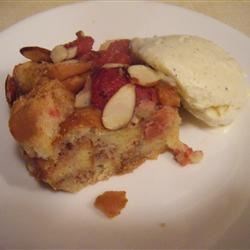 I urge you to scoop up and enjoy any Ontario Strawberries and Rhubarb while they are still available!
Wild Ontario Blueberries and Raspberries are starting to hit the farm stands too. Remember to only wash berries before use, then dry any extras really well and store in the fridge in a container lined with paper towel to maintain freshness.  All this berry talk means we'll need to cook up a mixed berry pie this weekend…mmmmm.